News e Iniziative Espositori
There are no matching posts to display...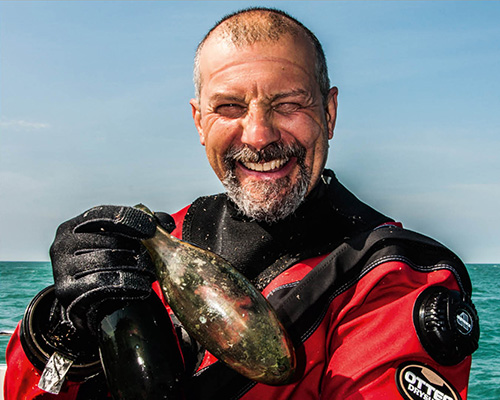 Ti aspetta
Domenica ore 13.00 – presso Master
presenta "Rebreather: errori e violazioni, differenze conseguenze"
Edoardo Pavia
born the 2 of April 1964 in Biella, lives in Rome with his wife Gaia and the 3 sons, Guglielmo, Matilda and Leonardo, where, since the 2000 he runs Sea Dweller Divers, the company established at the beginning of his career.
Technical diver, recreational Instructor, Instructor Trainer for Technical divers, underwater cameraman and documentarist, exclusive distributer for APDiving, Submerge Scooter, Otter Dry suits, and retailer for brands such has VMS, Divesoft, 4th Element, Weezle, Gralmarine, Scurion, ecc, Edoardo has turned his diving passion into a 360° full time job.
Since he was very young, he manifested an immense passion for the ocean, the one of the Aeolian islands was his first to be explored, following his inspiring masters in diving and freediving, such has Enzo Sole, Santo Vinciguerra, Enzo Maiorca e Jaques Cousteu.
At the beginnings of the 90's, in his home town Biella, he begin his formation with CMAS has a federal diver. Some years later he will start a round world tour that will lid him on a very remote atoll in the Coral Sea, where he will meet for the first time a rebreather: a semi-closed unit of the first generation, the Atlantis Draeger sport unit. Once returned in Italy, he will become one of the first technical divers of the so called "first generation", shortly becoming an IANTD Technical Instructor. Between 1999 and 2002 under the guide of Richard Stevenson and Kevin Gurr, he achieves the majority of the certifications that will promote him among those few technical divers and instructors that will change the way of diving. He will also dedicate quite a long period of time, sharing time and passion with the cave diving community, becoming IANTD and TDI Cavern Instructor. He will dive in the most popular cave systems from France to United States to Australia and Mexico.
In 2017, he is awarded with the prestigious Golden Trident in the Sport and Explorative category and, few days later, Edoardo becomes a member of the Explorers Club.
Expeditions
2002: RMS Transylvania ship wreck diving expedition
2003: first HMHS Britannic ship wreck diving expedition
2005:
Viminale ship wreck diving expedition
First diving expedition with the use of ECCR in Ukraine Black Sea, in Crimea
2006: second HMHS Britannic ship wreck diving expedition
2007: RMS Carpathia ship wreck diving expedition
2008:
Andrea Doria ship wreck diving expedition
HMS Victoria ship wreck diving expedition
2009: third HMHS Britannic ship wreck diving expedition
2012: XXVIII° Italian Expedition to Antarctica
2015:
fourth HMHS Britannic ship wreck diving expedition
diving expedition on the Regio Submarine Sciré
2016:
fifth HMHS Britannic ship wreck diving expedition
Regia Nave Regina Margherita ship wreck diving expedition