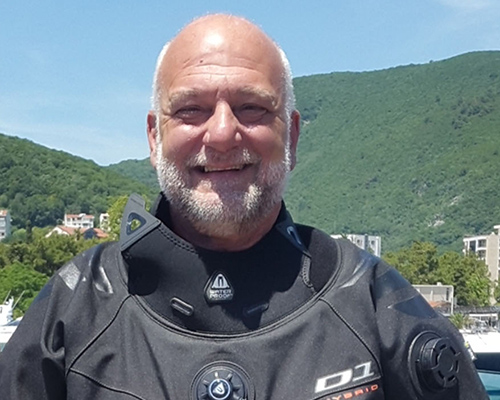 Ti aspetta
Domenica ore 10.00 – presso Master
presenta "Spedizione Santo Stefano 2019″
NEVEN LUKAS
Domobranska 7
10000 Zagreb Croatia
Born on March 14, 1954 in Zagreb, Croatia
FAMILY
Wife – two sons
PERSONAL (professional) ORIENTATION
By my education, in my opinion and as international trader by profession, I have cosmopolitan attitude, respect all nations, peoples, states. Besides former Yugoslav languages, I speak English, Italian, Spanish and have discreet knowledge of French.
EDUCATION:
1975 – 1978 University of Economics and International Trade, Zagreb Received master's
degree in 1978
1972 – 1974 Universita di Economia et Commercio "Luigi Bocconi", Milano, Italy
Concentration on Italian and National Economy
1974 Universidad de Valencia Studying of Spanish
1960 – 1972 Primary, Grammar and High School in Zagreb (Matura 1972)
DIVING BACKGROUND :
Neven Lukas is a diver with more than 44 years of diving
experience, instructor trainer and instructor of world largest Diving associations CMAS,PADI, IANTD
has take active part in creation of diving education in technical, gas mixed and rebreather diving.
Innovator specialised in diving equipment, holder of international patents for diving equipment and
gas blending mixing installation. Founder and general manager of RedTech d.o.o. (production ,
construction and distribution of technical diving equipment)
1988 – 2016 instructor experience formation of more than 820 different dive certifications
1988.1995 participation in underwater commercial diving
Cooperation with different Military and police forces:
Croatian Ministry of defence:
2006 -2011 Instruction in gas mix diving, Nitrox, Trimix, Gas blending
Conditioning in deep gas mix diving
2008 Construction of Mixing station with gas bank systems for Nitrox .Trimix
and oxygen filling facility
Montenegro – Ministry of interiors:
Regional Centre for Underwater Demining- Montenegro
2008- 2011 Guest Lecturer on international underwater demining courses
Guest Lecturer on international underwater archaeology course
Guest Lecturer on Kirby Morgan Helmet and band mask operator user training
Instruction in gas mix diving, Nitrox, Trimix, Gas blending
Conditioning in deep gas mix diving
Croatian Ministry for underwater heritage protection
Expedition leader , Trimix and diving supervisor on international diving expeditions .
2016 Project " Re d'Italia " 150 th anniversary of battle o Issa 120 m rebreather diving
2011 Project "SZENT ISTVAN " WWI famous Battleship wreck
2009 Project "SZENT ISTVAN " WWI famous Battleship wreck
2007 Project "Secrets of Adriatic" television and video films regarding wrecks form B.C . till WWII
2005 Project " Wrecks island Pag " WWI wrecks
2003 Project " VIS- Flying Fortress" WWII bomber B-17
2003 Project "SZENT ISTVAN " WWI with IANTD Expedition
2002 Project "SZENT ISTVAN " WWI famous Battleship wreck
1997 Project "SZENT ISTVAN" WWI First use of Trimix in a archeologial survey in Croatia Battleship wreck
DIVING EDUCATION CURRICULUM :
1973 SPORT DIVER
1980 DIVER *** CMAS
1986 CMAS I* INSTRUCTOR
1988 PADI OPEN WATER INSTRUCTOR
1995 IANTD ADVANCED NITROX INSTRUCTOR
1996 PADI MASTER SCUBADIVER TRAINER
1996 PADI IDC STAFF INSTRUCTOR
1996 CMAS NITROX INSTRUCTOR
1996 HRS – "CROATIAN DIVING FEDERATION" BOARD MEMBER
1997 IANTD NITROX TECHNICAL DIVER
1997 IANTD TRIMIX DIVER
1997 HRS – "CROATIAN DIVING FEDERATION " TECHNICAL COMMITTEE PRESDIENT
1998 HRS CMAS I*** INSTRUKTOR
1999 IANTD TRIMIX INSTRUCTOR
2000 HRS – "CROATIAN DIVING FEDERATION " PRESIDENT FIRST MANDATE
2002 DOLPHIN/ATLANTIS REBREATHER DIVER
2002 FOUNDER AND ADVISERY BOARD MEMBER OF " IHAD ADRIATIC" Disabled divers
2004 HRS – "CROATIAN DIVING FEDERATION " PRESIDENT SECOND MANDATE
2005 OPTIMA CCR REBREATHER DIVER
2005 CMAS BOARD OF DIRECTORS MEMBER
2007 CMAS U/W ARCHAEOLOGY DIVER
2009 CMAS BOARD OF DIRECTORS MEMBER SECOND MANDATE
2009 IANTD OPTIMA CCR INSTRUCTOR
2010 IANTD TECHINCAL & TRIMIX INSTRUCTOR TRAINER
2011 CMAS ADVANCED TRIMIX INSTRUCTOR
2013 CMAS BORD OF DIRECTORS MEMEBR THIRD MANADTE
2014 CMAS APNE INTRENATIONAL JUDGE
2016 IANTD OPTIMA CCR INSTRUCTOR TRAINER