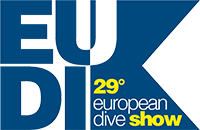 EUDI SHOW – European exhibition of underwater products and activities, is a trade fair promoted by Assosb in collaboration with BOLOGNAFIERE spa, organized by SEI srl (Organizer).
The Operational Secretariat is managed by SEI srl.
As staff we have extensive experience in managing national and international events and we devote great attention to organizing all aspects of the event towards both visitors and exhibitors.
We take great care in organizing exhibitions, conferences and workshops because we believe that a quality trade fair event should also be an opportunity for growth and a meeting point.
Promoter
ASSOSUB
Operational secretariat: Via Paolo Sarpi n.4-i – 36100 VICENZA
Registered office: Via Paolo Paruta n.4 – 30172 MESTRE (VE)
info@assosub.net
+39 348 9012345
Registered office
Via Paolo Paruta n.4
30172 MESTRE VE
P.IVA: 0341480102
C.F.: 95023660103
Organizer
SEI srl
SEI srl has in its Mission, the organization, management (direct, indirect and/or associated) and/or planning of conferences, fairs, exhibitions, specialized halls and other events of an exhibition nature, for the promotion of products, services, the activity carried out and the institutional purposes of companies, professionals, workers, associations and bodies of any kind, public and private, as well as trade organizations of economic operators.
The organization and presentation of advertising promotion services and the carrying out of studies on the market.
The promotion of origin and quality marks.
The execution and the management of studies and designs concerning the construction, renovation or maintenance of exhibition centers or in any case of real estate systems intended or to be used for trade fair activities connected to them.
The organization of shows, entertainment and singing and musical events , theatre, trade fairs, sports, food and wine, cultural, folk and more generally recreational entertainment open to the public.
Carrying out scientific and technological research activities, in support and in the context of the aforementioned activities, as well as the publication and/or distribution, also electronically, of proceedings of seminars and conferences and periodicals (not newspapers), books, manuals, catalogs and related supplementary supports.
The Company's purpose is also the sale and purchase and real estate management.
In the field of diving, it also organizes EUDI TEK.
SEI srl
Via G. Rossini 4 – 20122 Milan
tel. 039/879832
eudishow@eudishow.eu | www.eudishow.eu
P.I. 07779120968